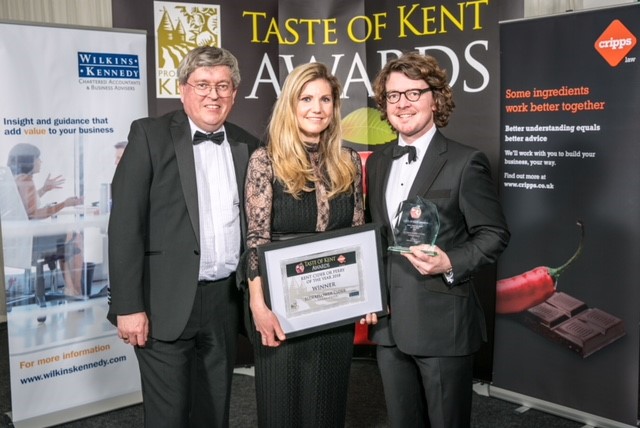 Kent craft cider business, TURNERS CIDER, based near Maidstone, has won the prestigious Kent Cider or Perry of the Year award for their Elderflower Cider.
Turners Cider, a family-run business, situated on an apple farm in Marden, just south of Maidstone, has scooped the top award at the Taste of Kent Awards. The awards, hosted by Produced in Kent, showcase the best of the county's food and drinks industry. Turners had already been shortlisted in the top three after a public vote and were delighted when the Produced in Kent judges deemed them the best of the best.
The awards took place at the Kent County Showground, Detling, on 8th March 2018 with a gala dinner and ceremony. The award for Best Cider or Perry of the Year was sponsored by Wilkins Kennedy LLP.
Director of the company Phil Turner said he was delighted to win the award: "We work hard to preserve the calibre of our craft cider and we are proud that this has been recognised and pleased that so many people are enjoying our ciders across Kent and beyond. Winning this award is a real accolade for Turners Cider, but it also really helps to put the high quality cider that we produce in Kent on the UK cider map."
Stephanie Durling at Produced in Kent said: "Congratulations to all of the winners and finalists. They should be thrilled at making it through to the final phase, as the results are always close and the judging is difficult as the standards are so high. The winners have however shone above the competition to be named the tastiest or the best. For the winners, these awards are the ultimate accolade from their customers and confirmation of their food and drink excellence."
Turners Cider makes cider in a traditional way. They use a variety of dessert and culinary apples grown locally and produce a wide range of craft ciders. The ciders are made with 100% Kent apples and use no concentrate, no artificial flavourings, colourings or additives.
Their Elderflower Cider has already been recognised as a top cider, winning a Silver Award at the British Cider Championships in 2017 at the Bath & West Show, Somerset.
Turners Cider is stocked across Kent, Sussex and London and online. Please visit our website. If you would like to become a stockist, please contact us below for more information:
For further information please contact:
Phil Turner, Turners Cider: 07825 394164
May Turner, Turners Cider: 07786 656137
phil@turnerscider.co.uk
may@turnerscider.co.uk
www.turnerscider.co.uk
PRESS RELEASE – Issued:  21 March 2018